Behance Review Nordest - The creative force awakens
This November APZmedia and Impact Hub Trieste, in collaboration with H-Farm organized the third Portfolio Review Week in Northeast Italy. For this third event, the theme was directly inspired in the imminent launch of Star Wars Episode 7, and therefor titled "The [Creative] Force Awakens. The whole event proposed a debate of which is the Force and the Dark side of the Creative World, and for that matter we proposed "The Path of the Creative Jedi".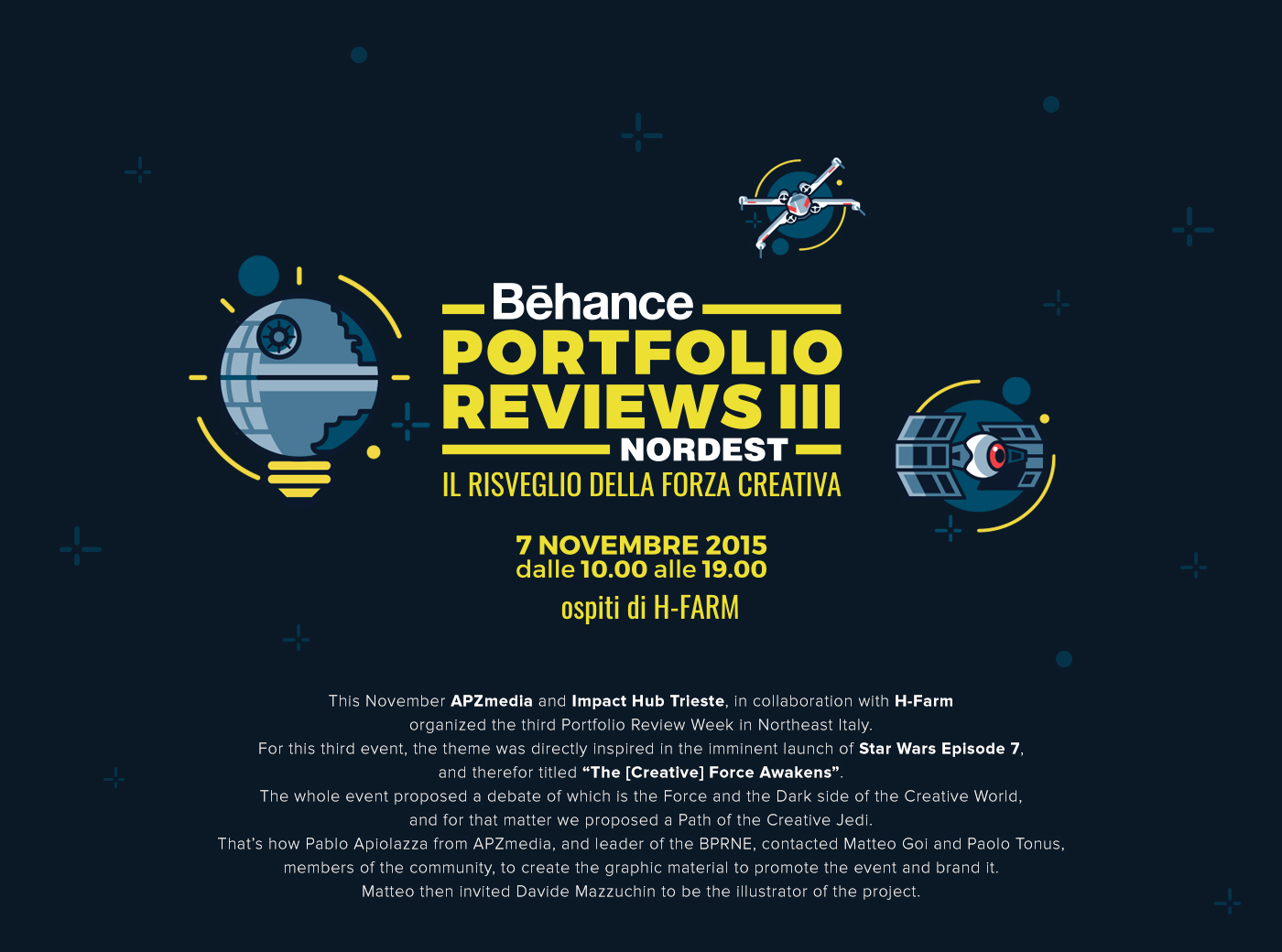 Starting from the elements of the Star Wars Universe we have created five icons.
Each of these flat icons represent five key steps of the creative process. These key steps where: thinking, researching, executing, finalizing and sharing.
The Death Star became a bulb that represents the idea and R2D2 was trasformed into a telescope for searching.
The Darth Vader's laser sword that turns into a pen was the first one we have created.
In the end we used Spaceships like the X-wing and the Tie-fighter to represent finalizing and sharing.
There's no project without an idea. At least not a good one.
To develop a concept is a must for any creative.
Finding references, combining elements, creating the right associations.
In order to excel, the creative Jedi must get his refs straight.
Once the thinking is done, it's time to make it happen.
Executing the plan is the axis point of the creative process.
Both God and Devil is in the details, and the Creative Jedi knows why.
When the project is going in right direction 
it's time to finalize it.
There's no project without feedback. Sharing is the corner stone of the next iteration.
Every end is a new beginning.